New streamlined and automated assessment integration from AcquireTM and Wonderlic, helps companies quickly identify top talent and avoid potentially toxic employees.
AcquireTM extends its award-winning hiring platform with the addition of Wonscore® from Wonderlic.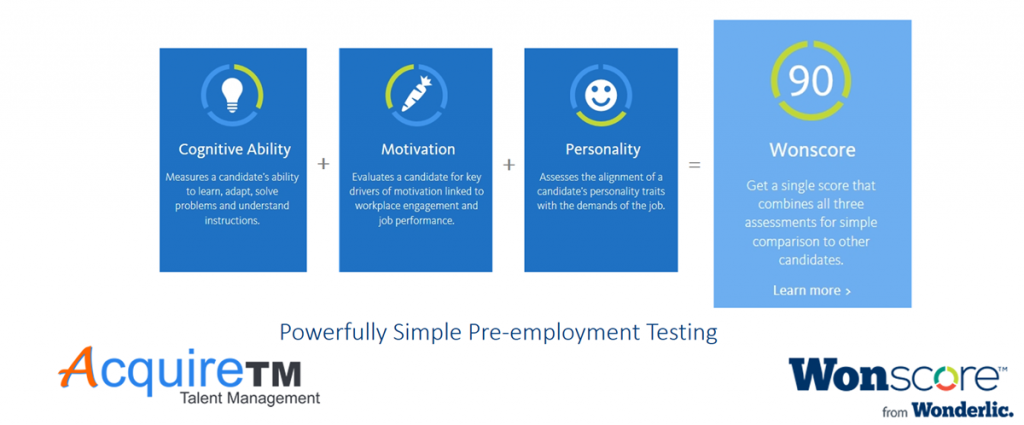 Wonscore utilizes the latest technology to measure applicant fit-to-job while drawing upon millions of benchmark data points. AcquireTM's state of the art talent acquisition solution combines all aspects of hiring, from applicant tracking to onboarding to background screening into one seamless platform. The two organizations are pleased to announce their partnership and the seamless integration that empowers hiring managers to effortlessly incorporate job-specific assessments and benefit from critical candidate insights in making better hiring decisions. "We are always looking to find the best  pre-employment assessment solution for our clients," said Jason Barnett, CTO and co-founder, AcquireTM, "Wonscore checks every box: it's got superior technology, unparalleled data and research, and the best customer service in the industry."
The integration is designed so that recruiters and hiring managers can simply turn on assessment from within a new or existing job posting. Behind the scenes, the technology automatically configures an assessment process tailored to each specific job opening. There's no cumbersome set up process and results are presented as on overall fit to job score allowing employers to quickly hone in on the best candidates. Everything is mobile-optimized to ensure that administrators and candidates can access the tools and assessment from any device.
Ken Silber, VP of Strategic Partnerships, Wonderlic said, "AcquireTM was a natural fit from the beginning. Their team is 100% dedicated to continuously finding new ways to help their clients hire better, smarter, and faster. We're thrilled to work alongside them."
Click here to more and start a free trial.
About AcquireTM
AcquireTM is the flagship talent acquisition software developed by Eon Applications, Inc. AcquireTM is a powerful, easy-to-use applicant tracking software and hiring management solution offering a suite of talent acquisition tools. AcquireTM simplifies the recruiting and hiring process by giving every member of the hiring team access to the information that they need: www.acquiretm.com
About Wonderlic
Wonderlic is a privately-held, pre-employment assessment company. Wonscore from Wonderlic is an easier, faster way to hire better employees and predict job performance with a scientifically proven platform, which helps easily identify who to interview and hire. For more information, contact 800-323-3742 or visit http://www.wonderlic.com/wonscore.